UP Board 10th & 12th Exam Time Table 2022 हाईस्कूल एवं इण्टरमीडिएट परीक्षा की समय सारणी
UP Board 10th & 12th Exam Time Table 2022-परीक्षा वर्ष 2022 के हाईस्कूल एवं इण्टरमीडिएट परीक्षा की संशोधित समय सारणी 
UP Board Class 10th, 12th exam date sheet: Uttar Pradesh Madhyamik Shikha Parishad (UPMSP), commonly known as UP Board, released its high school (HS) and intermediate examination 2022 schedule on Tuesday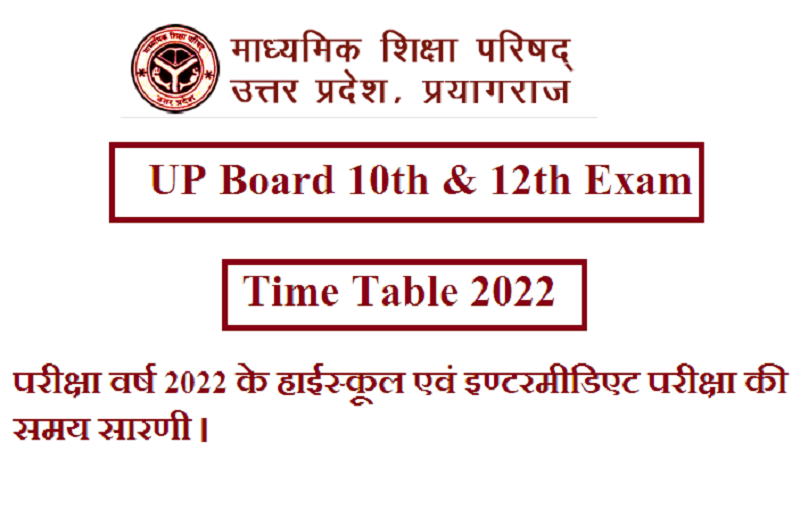 UP Board Class 10th 12th Exam Time Table 2022:The Uttar Pradesh Madhyamik Shikha Parishad (UPMSP) has announced the UP board exam time table  for Class 10 and Class 12. The board will conduct the Class 10, 12 exams from March 24. While releasing the UP board Class 10, 12 date sheets, UPMSP said: "While the Class 10 exams will be held in 12 working days, the UP board intermediate exams will get over in 15 working days." The Class 10, 12 UP Board exams will get over on April 12.
UP Board Class 10th 12th Exam Time Table 2022 : Uttar Pradesh Board of Higher and Secondary Education has confirmed the dates for 10th (High School) Board Exams 2022. The exams will begin on March 24, 2022, The board exams will be conducted in two shifts on each day The first shift will start at 8:00 am and end at 11:15 am, and the second shift will start at 2:00 pm and end at 5:15 pm. Uttar Pradesh Board 10th Class Time Table March 24,  2022 has also been released on the official website of the State Board.
Uttar Pradesh Madhyamik Shiksha Parishad (UPMSP)  has released Uttar Pradesh Board  10th Class Examination Time Table 2022. Uttar Pradesh Board  10th Class Examination Time Table March 2022 will be released in the form of a PDF file. The Uttar Pradesh 10th exams 2022 will be held in two shifts i.e. morning shift (8:00 am to 11:15 am) and evening shift (2:00 pm to 5:15 pm). The Uttar Pradesh 10th board exams 2022 start from 24th March and will continue till 12th April 2022. The guidelines to be followed during the Uttar Pradesh board 10th class exams 2022 will be updated here.
As per the UP Board time table, the exams to be held in offline mode for Class 10 and class 12 will both commence from March 24, 2022 and continue till April 12, 2022, they added.
The detailed date sheet has been made available at upmsp.edu.in. The UPMSP has already released a class-wise list of chapters, topics that have been deleted from the syllabus. The UP board exams for this academic session will be based on this reduced syllabus.