NIOS 10 12 Exam 2022 Registration
NIOS Class 10, 12 exam registration for April-May 2022 Public Exams of Secondary and Senior Secondary courses
NIOS 10 12 Exam 2022 Registration :  The National Institute of Open Schooling, NIOS, has started the online registration for the April-May 2022 examination for classes 10 and 12. Candidates are requested to visit the official website of NIOS, i.e., nios.ac.in, for the registration process. As per information, the last date to register for the public exam 2022 is January 31, 2022.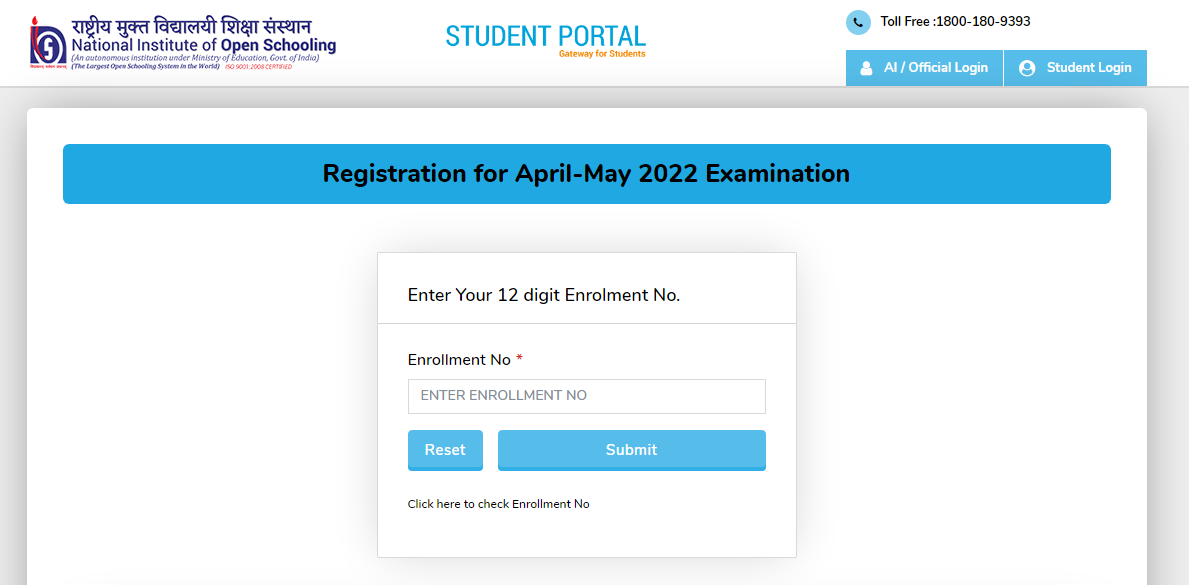 Dear Learners,
You can now submit the exam fee online for Public Exams of Secondary and Senior Secondary courses for April 2022 session. Kindly visit https://t.co/ZAGtm7i0Ha. Please read the instructions carefully before submitting the exam fee.@ANI @PIBHRD @PibLucknow pic.twitter.com/9Zs1Ail1iq

— NIOS (@niostwit) January 2, 2022
NIOS Public Exam 2022: Steps to register
Step 1: Go to the official website, i.e., nios.ac.in
Step 2: Open the homepage, click on the registration link.
Step 3: A new page will appear on the screen.
Step 4: Enter the asked credentials and click on the submit option.
Step 5: Pay the Enrolment fee and proceed.
Examination Fee for Secondary and Sr.Secondary to be conducted in April/May 2022  
Date Sheet For Vocational Courses and
Direct link to register for the NIOS Public exams 2022 click here
Dear Learners of Senior Secondary Course (Class 12th),
Kindly note that there should be minimum two year gap between passing 10th and passing 12th class hence, it is the responsibility of the learners (who have passed class 10th in 2021 and are registered to appear in class 12th) to submit the exam fee for not more than 4 subjects for the public exams for Senior Secondary courses to be held in April 2022 session. Result of the learners who submit the fee for more then 4 subjects will not be declared if the mandatory gap of two years as mentioned above is not completed. For details, you may refer the Prospectus available on the website.
The schedule for registration and payment of examination fee for Secondary and Senior Secondary examination to be conducted during April-May 2022 is as under:
| | | | |
| --- | --- | --- | --- |
| (1) | For all learners | Without late fee | 1st Jan, 2022 to 31st Jan, 2022. |
| (2) | For all learners | With late fee Rs. 100/- per subject | 1st Feb, 2022 to 10th Feb, 2022. |
| (3) | For all learners | With consolidate late fee Rs. 1500/- | 11th Feb, 2022 to 20th, Feb 2022. |
| | | |
| --- | --- | --- |
| (1) | Examination Fee | Rs. 250/- per subject (Theory) |
| (2) | Additional fee for Practicals in subjects having both theory and practicals | Rs. 120/- per subject |
| (3) | Note: | Additional Rs. 50/- will be charged for each transaction |