Tilak Maharashtra Vidyapeeth Online Exam Link 2022
Tilak Maharashtra Vidyapeeth Online Exam Link 2022 Released Student can Check admit card 
TMV Online Exam Link 2022 General Instruction about Online Theory Exam 2022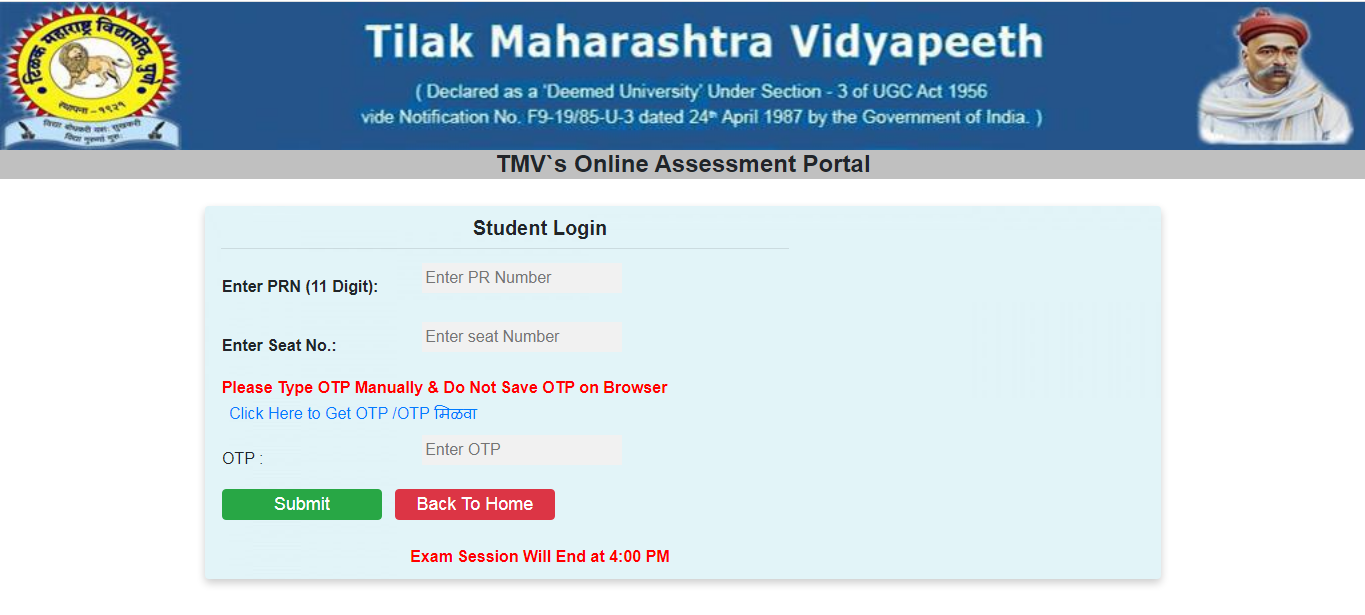 TMV Online Exam Link 2022 : Tilak Maharashtra Vidyapeeth Pune officials had declared the Tilak Vidyapeeth Online Exam Link 2022. Further, the officials had announced the Tilak Maharashtra Vidyapeeth Pune Time Table 2022 for Jan 2022 but Covid 19 due to change Scheduled in Jan 2022. Also, for the sake of the candidates, we had given the direct link to download the TMV Pune Exam Time Table 2022. All the students have to remember that we will update the information and the links to download the Tilak Vidyapeeth Exam Schedule 2022 for the remaining courses after the officials make it out.
TMV Online Exam Link 2022 General Instruction about Online Theory Exam 2022
1- Student have to open following link and select the Online Theory section for Register or Login
(www.tmvonline.org or http://tmvonline.org/onlexam)
2- Student has to register for exam using PR Number and Seat No. Once student get register for exam he can login and proceed for examination
3- During the login process student will get OTP on same page and student have to entered OTP manually in otp box
4- In case on any issue during examination such as closing of the exam window, power failure etc student have freshly login (delete browser history in case of login failure) and can restart the exam.
5- Student can attempt any number of subject during the exam session (10 AM to 04 PM)
6- For any technical assistance student have contact Information centre coordinator at first place (in case Ext Students). For regular students they have communicate to exam coordinator
7- If students need any technical assistance and centre coordinator or exam coordinator check the issue then students can send email on mentioned email (onlineexam@tmv.edu.in) in proper format.
8- If students have any issue about exam pattern, session time, schedule or question text, they have to communicate with exam coordinator.
9- Students have to Read and Follow the Instructions or Note mentioned on exam system home page about any course or subject and for more details about Instructions or Note they have to communicate with exam coordinator.
Online Theory Exam 2021-22 :- Rules and Regulations.
1) Please refer to the time table displayed on the website for your program.
2) A student can log in for Assessment only during stipulated time in the given schedule (10am to 4pm) from mobile, laptop, desktop.
3) The norms and rules are laid down in order to maintain decorum and discipline for the Assessment.
4) Carefully see the time allotted to appear for your subjects. A student is expected to finish a particular subject's Assessment at one go without a break in stipulated time. In case a student does not submit a particular Assessment after stipulated time, it will be automatically submitted and it will be the final submission for that particular Assessment. There will be no re login for the same subject again. Hence a student needs to carefully select subject and appear for Assessment with sincerity and integrity.
5) Please do not ask for time extension as we will not permit it. This is in the interest of the students as it can be undiluted assessment with fair means. We would like students to treat it with positive attitude as students safety is our prime concern at this hour.
6) A student can appear for any number of subjects in the stipulated time taking into consideration the timing allotted for each subject. Make sure you do not start Assessment just 30 minutes before the session closing time. Your assessment will be half way through and it will be considered as submitted as the session time ends. You will be at a loss and re login for the same subject will not be allowed.
7) Stay home, stay safe and wishing you all the best!!!!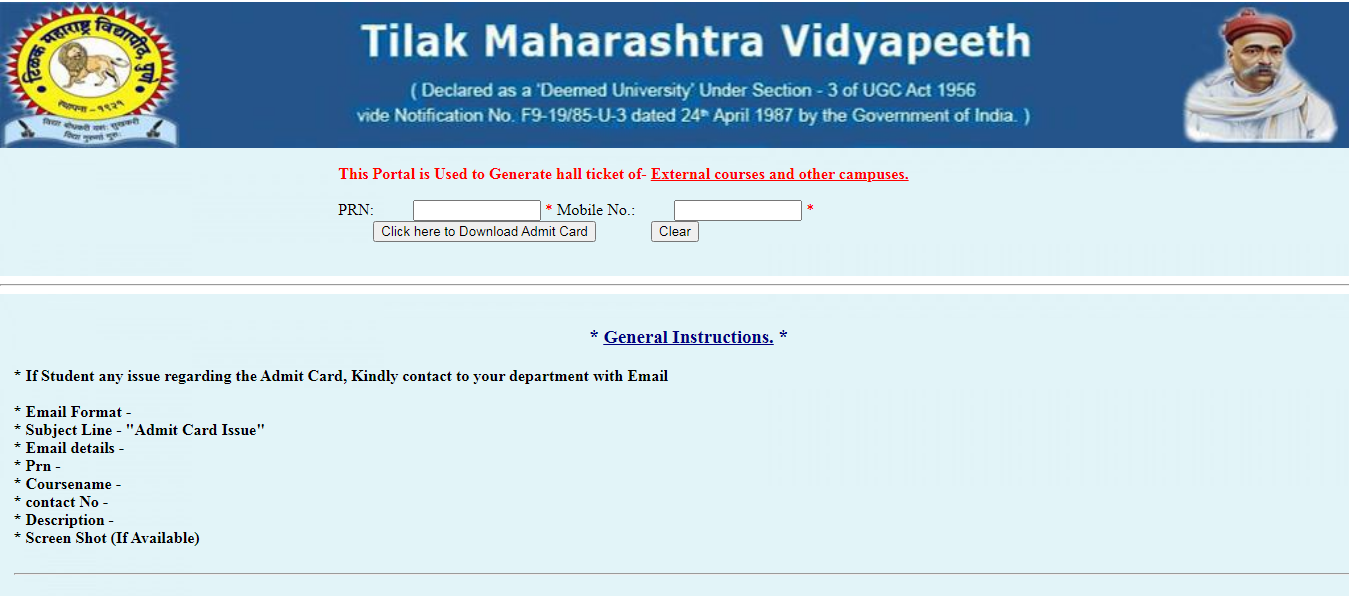 TMV Admit Card 2022 – Download BA, B.Com, B.Sc, MA, M.Com, M.SC Admit Card PDF:- According to our sources, it has been reported that TMV will announce its early exams in this week. According to this information, the examination TMV Exam Admit Card 2022 of both undergraduate and postgraduate courses studying in TMV will be announced. For a long time, students were waiting for their TMV Exam Admit Card 2022. With the announcement made by TMV, their wait is about to end. Students will have to prepare rigorously for the TMV Exams 2022 to get good marks in their exams.
How to Download TMV Admit Card 2022 PDF
First of all, open the official website of TMV.
Then click on the option of TMV Admit Card given in its right side.
After this you will fill all required details and click on the Download button given in front of TMV Admit Card 2022.
The TMV Admit Card 2022 will appear on your screen.
Save the Tilak Maharashtra Vidyapeeth (Maharashtra) Admit Card 2022 PDF shown on that screen in your mobile or in your computer so that what you have is in the Tilak Maharashtra Vidyapeeth (Maharashtra) Exam 2022 To use.
* General Instructions. *
* If Student any issue regarding the Admit Card, Kindly contact to your department with Email
* Email Format –
* Subject Line – "Admit Card Issue"
* Email details –
* Prn –
* Coursename –
* contact No –
* Description –
* Screen Shot (If Available)
Download Admit card 2022 Direct Link 
Online Theory Examination Section (External)
Use of this section- This section is used for giving the online examination for various courses for 2021-22 Examinations
1. Student please click here to register and give online exam (External)- Examination 2021-22.
Exam Application Portal (Regular Student)
Use of this section- Here students can apply for examination form, backlog form, download hall ticket and also can apply for reval etc., Applicable to students took Ist year admission in 2021-2022 academic year and afterwards.
1. Students should Link1     Link2 to login & apply here for examination(STUDENT).
2. TMV employee should Link1     Link2 to login for verifying forms, generate seat no,marks entry and generate result.